Controller's Message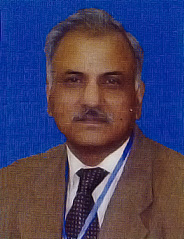 The Shaheed Zulfiqar Ali Bhutto Medical University was established in 2013 with the purpose of imparting quality medical education, better patient care, encouraging and arranging extensive research and publication in the field of medical sciences.
It is the first dedicated public sector medical university established in the Federal Capital of Pakistan.
It has been a time of transformation, both on academic and administrative front. The University aims to attain a unique stature of national institutions imparting unified and standardized knowledge and skills in medical sciences, at par with International standards.
We aim to produce the medical professionals; those who set the bar higher for all others; not just in academic excellence and professionals skills, but also in integrity and work ethics.
The examinations' being a very sensitive and time bound task, are conducted by the Degree Section and the Conduct Section on one side and evaluation on the other. These different sections work in a very cordial manner having committed and dedicated.
To keep pace in with changing time, increasing number of candidates, expanding workload, and shortening delivery time, the university has already introduced I.T. solutions to provide quality services.