MDCAT Entry Test 25, August 2019
MDCAT 2019 process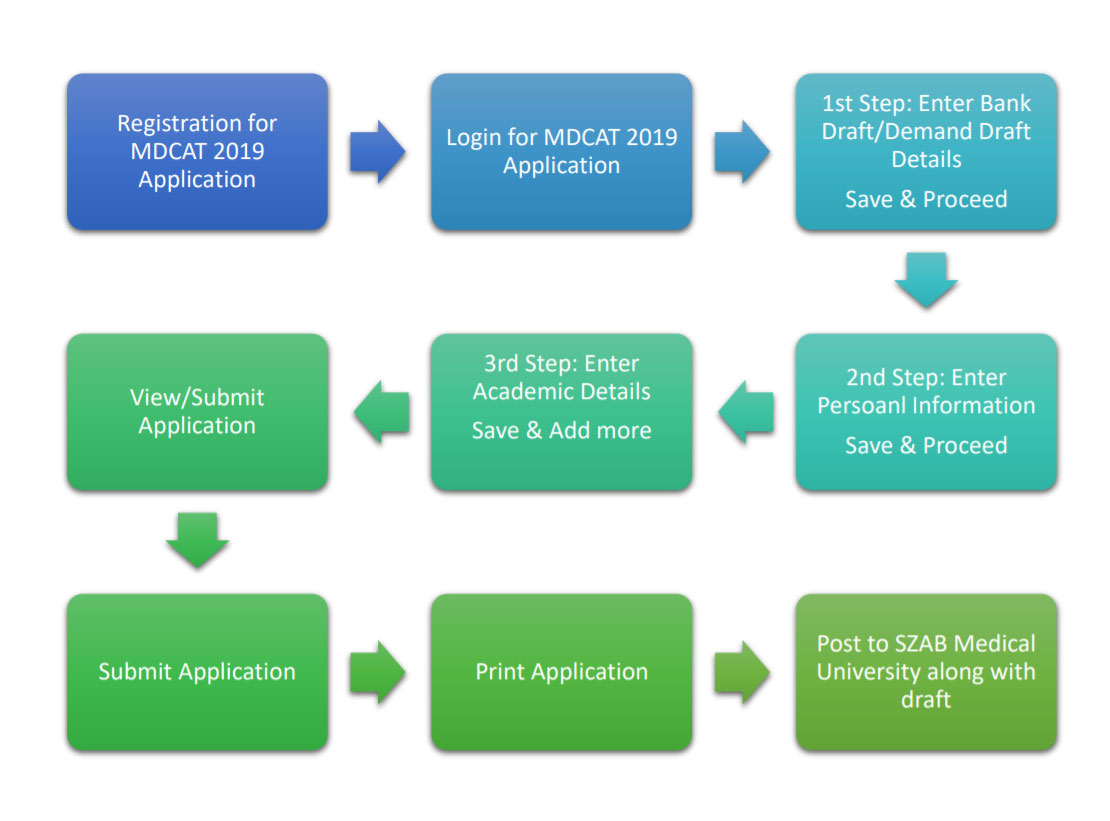 MDCAT 2019 Eligibility Requirements
The Candidates having domicile of all over Pakistan can appear in MDCAT-2019 for admission to public and private sector Medical /Dental Colleges/Institutes of Islamabad (ICT) and candidates having domicile of all over Pakistan including foreign national students can appear in MDCAT-2019 for admission to any private sector Medical/Dental Colleges/Institutes of Pakistan.
As per admission regulation 2018 of Pakistan Medical and Dental Council as amended on 30th May, 2019.
• The candidate has passed the Intermediate Science (HSSC/F.Sc.) Examination (Pre-Medical Group) securing at least 70% marks from a Board of Intermediate and Secondary Education in Pakistan.
OR
The candidate has passed any other examination (e.g., A-Level, 12th Grade,I.B., etc.) of a foreign university or examining body, with the subjects of Biology, Chemistry, Physics/ Mathematics, declared as compulsory by Pakistan Medical and Dental Council, and which, in scope and standard, is found equivalent, upon certification by the Inter-Board Committee of Chairmen (IBCC), Pakistan, to the Intermediate Science (HSSC/F.Sc.) of Pakistan, with at least 70%(770/1100)marks.
Mere appearance in MDCAT does not confer the right to apply for or claim admission to any Medical and Dental Institute.
Instructions
A candidate can apply for MDCAT 2019 only online by using admissions.szabmu.edu.pk/mdcat2019/
A candidate can apply using the desktop computer or laptop but not mobile phone
The candidate must follow the instruction given on the web link to register himself/herself.
After his/her filling particulars the candidate will be asked to upload his/her latest coloured photograph not more than 2 months old the size of file should not be more than 1 MB.
After compiling the form the candidate should have review his/her application.
The candidate can submit his/her application by clicking the submit button.
It must be noted that the candidate cannot edit his/her application once it has been submitted. The candidates are therefore advised to carefully go through their application before submission.
The candidate should get a print of filled application by clicking the view/submit application and print application.
On a single NIC/passport number only one application can be submitted. Candidates are therefore advised to submit only one application form. If candidate submit's more than one application form, his/her registration shall be cancelled.
The university shall receive online applications till 16th August, 2019.
Fee Details & Submission
MDCAT 2019 Test will be conducted in Islamabad on 25th August 2019 (Sunday) at 10:00 am
MDCAT 2019 examination fee is Rs. 2000/-
Applicants will create a Bank Draft/ Pay Order in favor of Shaheed Zulfiqar Ali Bhutto Medical University Islamabad (NTN# 9010030-4). Fee is non-refundable/non-adjustable.
Copy of online submitted Application form along with CNIC, Intermediate certificate and Original Bank Draft should reach the Controller of Examinations, Shaheed Zulfiqar Ali Bhutto Medical University, PIMS, Sector G-8/3, Islamabad before closing date.
Contact us
+92-51-9262078
+92-51-9262079
+92-51-9107705
+92-51-9107686